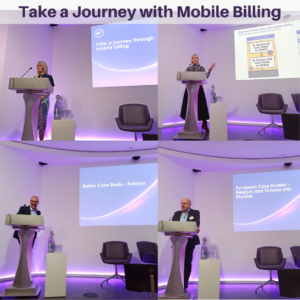 On the 23rd March EE/BT, supported by aimm, hosted the  'Take a Journey with Mobile Billing' event at the BT Tower.
The aim of the event was to provide an introduction to Charge to Bill, as an additional payment method for the transport and parking sector.  The event demonstrated how – by giving a wider choice of payment options to their customers – the transport sector could reach those that may not wish to or are able to buy transport tickets the traditional ways.
Naomi Hone, Charge to Bill Manager at EE/BT said: 'there are 72 million mobile phones in the UK, and carrier billing is already automatically enabled on most of them. This essentially means that the majority of people are walking around with a ticketing vending machine in their pocket!'
With speakers from aimm, EE, Kaleyra and Plusdial, as well as a panel featuring Fonix and DMB, answering questions  from the audience, it was a great opportunity to start the conversation around the opportunities that mobile billing can provide the transport industry.