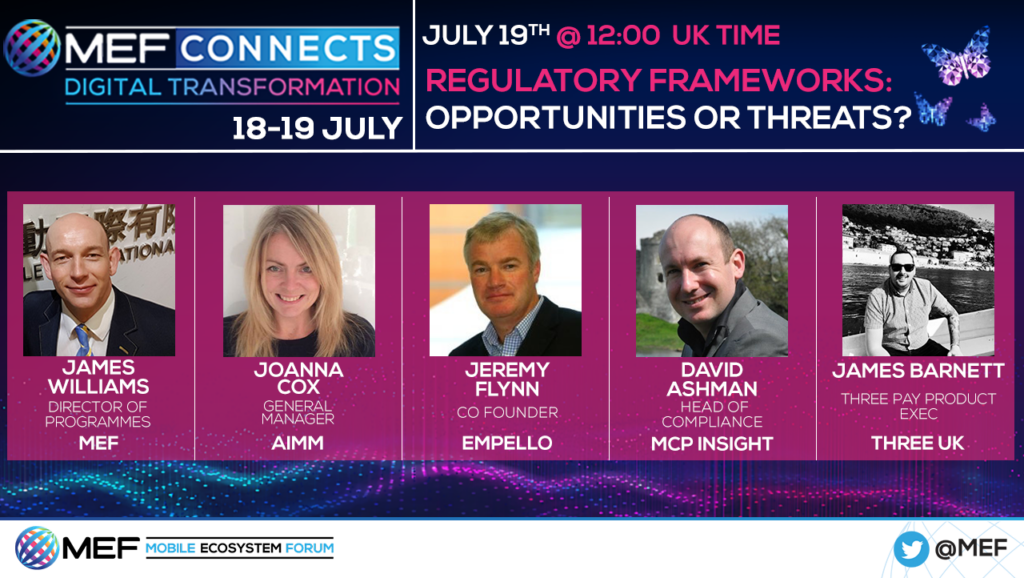 Next week is MEF Connects – Digital Transformation a two day online event July 18th and 19th. As a Trade Association in the same space we are pleased to be able to support this event. We have been invited to speak on 19th July, Day 2 on Regulatory Frameworks at 12pm UK time.
"The increasing growth of mobile payments has provoked a response from regulators. The intersection of financial, telecommunication and technological regulation make this a complex and challenging question. Leaders in the field are ready to share insight and knowledge."
As our members will know we have spent a lot of time over the last few years working with the Regulators to ensure that the regulatory space our members work in is protected, fair and encourages innovation and growth, especially with the launch of Code 15 this spring.
We will be joined by Mobile Ecosystem Forum, Three UK, MCP Insight Ltd and Empello
This event is free to attend and you can register for your ticket online. Join the event to get the latest information and news on all things, IoT, Identity and Authentication, Security, Direct Carrier Billing [DCB], OTT Sports, NFTs, Crypto and so much more.