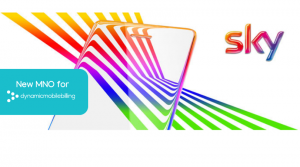 Dynamic Mobile Billing (DMB) is delighted to confirm they are now able to onboard and provide both existing and future ordered shortcodes (MO & MT billed) to be live on the UK's latest mobile operator, Sky Mobile!
Sky Mobile has already grown its consumer subscriber base in excess of 1 Million users since its launch in 2018, with an impressive anticipated 4 Million users forecast by the operator by 2022.
DMB has also agreed in principle with Sky Mobile (process to be finalised and scope to be developed for intended launch in Summer 2019) that they can open up PFI via silent PSMS billing, with PFI support not intended to be part of any initial product roadmap scope for Sky Mobile.
DMB's CEO, Kevin Dawson has welcomed the move and said, "We're delighted to be teaming up with the UK's newest MNO, and offer our customers even more choice for mobile payments".
For any further information or to activate shortcodes on this network please contact the team directly accountmanagement.uk@dynamicmobilebilling.com