We invite you to join us  at Blackfriars for an evening of networking with new and old business contacts in beautiful surroundings by the river.
AIME understands the importance of business networking, so look to provide these opportunities whenever possible for our members. Our networking evening is open to members and non members in a relaxed environment of mutually beneficial collaboration, to encourage business growth and working relationships within the interactive media and payments industries.
Our Spring Social evening is in the beautiful Voltaire Bar at the Crowne Plaza Hotel in Blackfriars, conveniently close to public transport links for easy access. The evening starts from 18.00 and will follow on from our AIME General Meeting in London, for those who will be attending during the day.
Tickets start from just £19 + VAT and include a welcome drink and nibbles, as well as the use of our exclusive AIME only area within the Champagne Library of the Voltaire Bar.
The bar is fully stocked for further drinks during the evening. The drinks menu includes wine, beers, cocktails and champagne.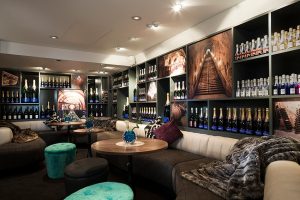 Previous networking events have been very popular with attendees from companies including:
BBC, Cellcast, EE, Fonix, IMImobile, ITV, Harvest Media, Oxygen8, mGage, Phone-paid Services Authority, Telemedia News and Vodafone amongst others.
Tickets:
Member Tickets               £19.00 + VAT
Non Member Tickets     £24.00 + VAT
AIME Members can get their tickets by either requesting them directly from AIME and you will then be invoiced  for these, or from our tickets page below.
Non Members can get their tickets directly from our tickets page below.
Booking fees apply when ordering online.
We hope to see you there