Paris, May 10, 2021
Evina, the leading specialist in cybersecurity for mobile payments, has unveiled a new tool that extends the anti-fraud protection throughout the entire monetization flow, starting from the source of traffic.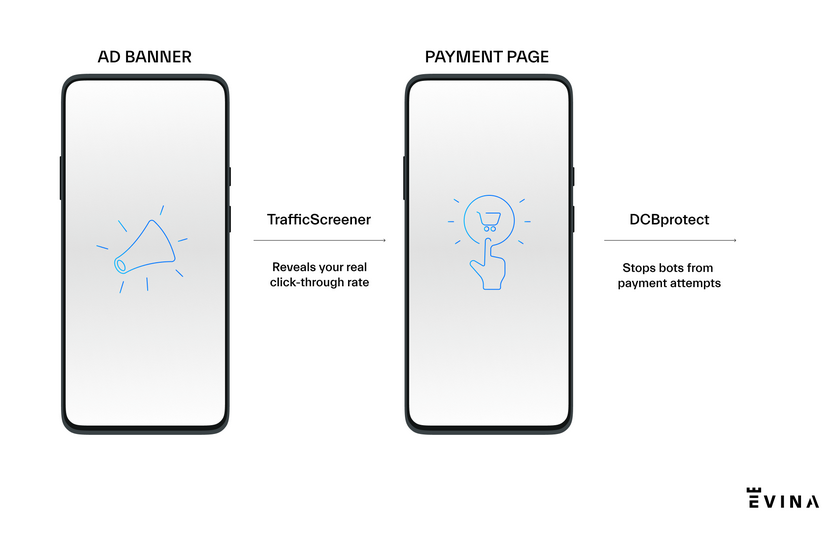 The Paris-headquartered firm with operations in Europe, the Middle East and 15 African countries says TrafficScreener helps merchants master mobile traffic monetization by detecting fake visits.
After creating Evina DCBprotect, the market's best anti-fraud solution to block bots at the time of payment, Evina now leverages the same cutting-edge technology to detect bots as they arrive on a merchants page.
According to Farid Taha, Chief Customer Officer at Evina: "When dealing with a CPC (cost per click) model, merchants need to know what type of click – fraudulent or authentic – is leading to their webpage. This has long been a blind spot when dealing with ad traffic and it's why Evina created a tool that provides visibility on all visits following ad clicks."
Mr Taha elaborates by explaining that, in mobile traffic monetization, the objective of merchants is to optimize their media buying. This is done by evaluating traffic sources via cost per click, click through rates, conversion rates and invalid clicks. Effective media buying depends on reliable data analytics and when there is a lot of undetected fraud in the form of bots making click-throughs, the decision-making process becomes skewed.
For more information, please contact Evina at https://info.evina.com/trafficscreener/contact-us
"With TrafficScreener, the real conversion rate is revealed through the detection of fake visits. This means merchants can decrease fraudulent traffic, boost conversion rates and ultimately increase their revenue," adds Mr Taha.
This new product represents the flip-side of Evina DCBprotect which stops bots from making payment attempts. Now, traffic monetization can be mastered while fraudulent payments by bots are similarly prevented. While DCBprotect protects the payment page from bots, Traffic Screener detects bots that derive directly from the banner ads. By revealing real traffic and real conversation rates, merchants can optimize their mobile monetization activities. The aim is to reduce the 20% of budget merchants lose when they acquire fake traffic.
Specifically, TrafficScreener enables merchants to receive real figures that reflect the quality of their traffic. Healthier traffic sources can be rapidly identified while fraudulent ones can be quickly cut off. The product even enables merchants to be reimbursed for fraudulent traffic as Evina can provide proof of bot-based activities. Finally, merchants gain a competitive advantage and higher conversion rates by accessing valuable data analytics that enable smarter decision-making.
Thanks to over 15 years of R&D in cybersecurity for mobile payments, Evina's anti-fraud technology now analyzes more than 16 million transactions per day worldwide. Some 99.94% of fraudulent transactions are detected, with a 0.06% false positive rate recorded, and less than 100ms latency.
Evina's DCBprotect flagship anti-fraud offering protects mobile transactions by employing anti-fraud sensors to enable mobile network operators, payment gateways and merchants to transform fraud into a manageable phenomenon.
Evina's primary objective is to strengthen cybersecurity practices by informing MNOs and players that make up the mobile ecosystem on the inner workings of fraud to better protect mobile users and businesses.
Together with leading mobile industry associations such as MEF and the GSMA, Evina is helping to create a mobile ecosystem built on trust and transparency and underpinned by smart solutions that create prosperity.
Evina regularly produces case studies with renowned MNOs, updates on the latest types of fraudulent techniques, and reports that provide market players with information on country fraud rates, the most common regional fraud techniques, and the trending malicious apps.
Website:  https://www.evina.com/
Twitter: @EvinaTech
LinkedIn:  https://www.linkedin.com/company/evina/