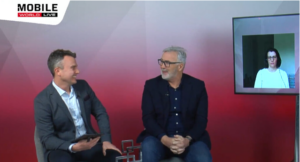 The shortlist for the prestigious 2023 GLOMOS (Global Mobile Awards) was revealed, honouring cutting-edge innovation and initiatives in the mobile industry creating real impact for society. Sam Media's latest product, Holozonia, made it to the shortlist in the brand new category Best Mobile Innovation for Web3.
The GLOMOS are always evolving with new awards added regularly to acknowledge achievement in emerging areas of the industry and reflect the latest technology trends. Other categories making their debuts this year include: Best Mobile Innovation for Cities and Best Cloud Solution.
Sam Media expanded it's next-generation product line-up last year, with the launch of Holozonia during World Telemedia 2022. The Amsterdam based company has a strong focus on immersive content and launched several VR and AR services in the past years. Holozonia is the first service that offers a wide range of VR and AR content in one place. One subscription will enable consumers to enjoy premium VR Streaming, AR games, spatial music, 360 fitness, and education in 3D, VR, and AR. All of this is offered in one metaverse and can be accessed from a smartphone's browser anywhere and anytime.
GSMA will be announcing the winners of the GLOMO Awards in a ceremony during Mobile World Congress, on Tuesday 28 February, 18:00 – 19:00 (CET), at the Industry City Stage in Hall 4. A team of Sam Media will be at Mobile World Congress. Contact us to set up a meeting.
For the full story as well as an video interview with Sam Media on their shortlisting please visit: https://sam-media.com/press-release-sam-medias-holozonia-shortlisted-for-a-glomo-award/