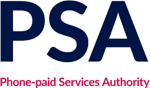 The Phone-paid Services Authority (PSA) has established a Case Prioritisation Policy and Principles, in order to best focus its resources and efforts in enforcement cases.
"We need to make decisions about the best use of our resources in order to deliver the best outcomes for consumers. This involves making appropriate decisions about which cases to pursue through formal procedures, and which of those cases to prioritise."
These Principles are outcomes-focussed and aim to ensure that their resources and enforcement approach is targeted to have the greatest regulatory effect.
You can find out more about what this involves by reading the full Principles