On the 7th and 8th November in London you will be provided with the essential opportunity for progressive digital publishers to get to grips with the issues that will drive profitability in an attention economy.
AIME Members can claim their 10% discount by using the code provided in the event information pack.
Key topics to be discussed include:
The challenges of product development
New monetisation models
Advertiser needs
Data complexity
Audience engagement
Hyper-competition
We are pleased to announce that our MD Rory Maguire will be speaking at the Convention on the 8th November, and we will then welcome key speaker Richard Reeves from the AOP to address audiences at our Power50 Conference the following day.
Speaker Spotlight: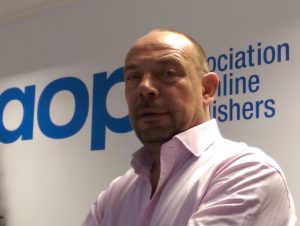 Richard Reeves is leading the evolution of the AOP, providing a voice for the online publishing industry, through his role as Managing Director. He is responsible for the operational management of the digital trade body, as well as delivering a programme of targeted initiatives, research, and events.
Richard has worked within the media and advertising industry for more than 30 years, holding senior roles across a variety of sectors including publishing, broadcast, events, digital content, and digital vendor technology businesses.
Having worked with a number of leading UK and international publisher brands – starting at Centaur Communications in the mid eighties – Richard has gone on to work with Dennis Publishing, News International, and the FT, and also held positions at National Geographic and Turner Broadcasting.
Richard later transitioned from his senior sales management role within the broadcast division of CNN International to lead the roll out of CNN.com to international markets, becoming CNN's first dedicated digital resource outside of the US.
Subsequently, Richard joined the – then – embryonic C Squared Networks to launch the widely respected international events series 'The Festival of Media.' After four years expanding the festival into multiple regions, Richard was responsible for establishing the European operations of leading technology businesses, looking to extend beyond the US.
Prior to his appointment by the AOP to Managing Director, Richard has been a consultant to a number of businesses – of which the AOP was one.