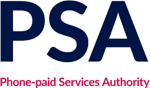 Following publication of the PSA's Statement on introducing new Special conditions for all subscription services, and the new Special conditions for Recurring Donation services, the PSA held an implementation workshop for industry members working in the charity space to raise any implementation-specific queries, ahead of the regulatory changes coming into force on 1 November 2019.
At the workshop it was identified that some charity print and broadcast advertisements that have already been produced for upcoming campaigns may not be compliant with the updated Special conditions for Recurring Donation services.
Following consideration of this issue, the PSA is extending the implementation date for Special conditions RDS6(d) and RDS7(c) for specific providers, which will now come into force on 6 January 2020. The PSA considers that this will enable those providing recurring donation services who intend to use the two-stage Mobile Originating Short Message Service to obtain consumer consent to charge, sufficient time to make the necessary changes to their television and print advertisements to ensure compliance with the new Special conditions. This represents an approximately nine-week extension to the previous implementation date of 1 November 2019.
Full details can be found from PSA