14th May 2018
Fonix's carrier billing and messaging solution enables 5-day veggie challengers to discover new recipes and to receive text messages from Jamie.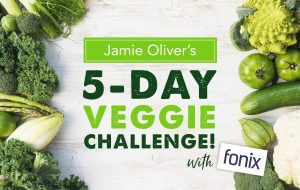 Fonix, the tech company for acquiring, engaging and monetising consumers through their mobile phones, has been selected by Jamie Oliver to power the billing and messaging service for Jamie Oliver's 5-day Veggie Challenge. Jamie's 5-day Veggie Challenge starts today and challengers simply sign up and pay £2, which is charged to the mobile phone bill, without needing to enter credit card details.
During the challenge, an email will be sent every morning containing the day's meat-free meals, along with extra tips and videos for a super-tasty day. Plus, through Fonix's messaging platform, Jamie will be in touch throughout the week to share even more veggie inspiration.
Jamie's colourful meal plan guarantees at least five portions of veg and fruit each day, plus a healthy balance of all the main food groups and nutrients.
Stephen George, Business Development Director, said: "We're delighted to be supporting Jamie Oliver with this challenge. Everyone knows how important healthy diet and lifestyle are and technology should always seek to make these easier to achieve. By making payments for the 5-day Veggie Challenge as frictionless as possible, Jamie Oliver will be able to help more people to get better food into their diet."
Linda Davidson, Director, Digital Product, Jamie Oliver added: "We're very proud of this challenge, we want to inspire everyone and provide them with a great experience from start to finish.
"The 5-day Veggie Challenge is a great way to have a bit of fun and get healthy; making the payment process to access content easy, is just the cherry on top. With a payment mechanic as simple as this and with tips and recipes from Jamie throughout the week, there's no excuse not to join in the challenge.''
Jamie Oliver's 5-day Veggie Challenge coincides with this year's National Vegetarian Week, 14-20 May. To sign up visit here.