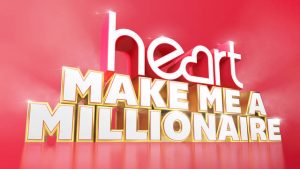 Heart, the UK's most loved commercial radio brand, is giving away the biggest single prize on UK radio – one million pounds!
Launching today, Heart's brand-new game, Heart's Make Me A Millionaire, will see one lucky listener walk away with an unbelievable sum of money at the start of May. However, before contestants are entered into the enormous cash giveaway, they will be faced with a huge decision to be in with a chance of winning the life-changing cash.
Every weekday morning on Heart Breakfast with Jamie Theakston & Amanda Holden, listeners will have the chance to win a daily cash prize by identifying when a specific artist is played on air. They will then have to choose whether to keep the money or go into the draw to win an incredible one million pounds.
After 11 weeks of Heart's Make Me a Millionaire on Thursday May 7th, Jamie and Amanda on Heart Breakfast, the biggest show on commercial radio with 9.5 million listeners, will announce the winner of the massive cash prize.
Heart Breakfast's Amanda Holden said: "This is so exciting – we're so thrilled to kick off the biggest game on the radio! Thanks to Heart, one amazing listener will walk away with an incredible one million pounds… bring on the final!"
Jamie Theakston said: "This is the largest amount of money we've ever given away to one listener on Heart. This is life-changing cash, making an instant millionaire – we can't wait to make and meet the lucky winner!
Tune into Heart on 96 – 107 FM, on DAB digital radio right across the UK, on mobile via the Heart app or Global Player, online at heart.co.uk, on your smart speaker by saying "play Heart".
For more details about how to play Heart's Make Me a Millionaire visit www.heart.co.uk/win/make-me-a-millionaire/
@thisisheart
#HeartMillionaire