Our popular Golf Day is back for 2015! Last year we saw 15 teams take to the green under clear blue skies for a great day out.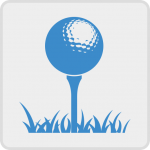 This day is a perfect opportunity to get away from the desk and out into the fresh air in the beautiful Surrey countryside to swing a club while doing a spot of networking, and having a drink along the way. There are certainly worse ways to spend a day!
As in previous years there is the chance for you to create your own team to play and pit yourself against the others on the course.
If you don't have enough people to make your own team, don't worry you won't have to miss out on the fun as we will create a team for you.
The day starts with a breakfast roll at the clubhouse and a practise swing on the driving range before heading off on the green. You will be kept refreshed through the day by the Drinks and Snack buggies that will be coming round the course. You will have a chance to try for the Nearest the Pin and Longest Drive Awards before coming back to the Clubhouse for a relaxed BBQ and find out who the winners of the day are!
Information and prices for this day can be found here: Golf Day 2015 info June2015
We will be running the AIME Future of Industry Conference the day before down the road so if you are interested in taking part in both events please contact AIME on info@aimm.co for further information and see our page for this event on our AIME Events page.