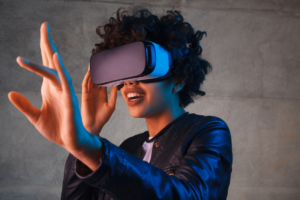 Dutch leader in innovative mobile content, Amsterdam-based company Sam Media, is further extending its next-generation product line-up. On October 19th, they will launch their latest product, Holozonia, during a launch party at World Telemedia in Marbella.
5G guarantees faster speed, lower latency, and greater capacity, enabling mobile content innovators to create on-the-go, ultra-high-definition video, virtual reality, and other advanced applications.
Sam Media has always had a strong focus on immersive content and launched several VR and AR services in the past years. Last year they launched XR Academy, an impressive e-learning and entertainment service, and in 2020 they won a Meffy Award for their streaming product Mobio 360. Holozonia will be the first service that offers a wide range of VR and AR content in one place. One single subscription will enable end-users to enjoy premium VR Streaming, AR games, spatial music, 360 fitness, and education in 3D, VR, and AR. All of this is offered in one metaverse and can be accessed from a smartphone's browser anywhere and anytime. It is compatible with all mobile web browsers.
Accessible to everyone, on any device
Holozonia has been designed to be compatible with all types of virtual reality headsets. Even consumers that don't own a VR headset are able to engage with all the content effectively. All they need is a smartphone with internet access. No 5G, no problem, because streaming capabilities will automatically adjust to the available bandwidth. It's the mission of Sam Media to ensure that digital content can be enjoyed everywhere, also in markets where access to traditional payment methods is limited. This is why the company has a strong focus on carrier billing and mobile wallets. Holozonia is compatible with all mobile browsers, PC's, tablets and VR built-in devices e.g Oculus.
How does Holozonia benefit mobile networks?
Holozonia unlocks the full potential of 5G networks. It offers consumers a way to discover and interact with the most engaging virtual and augmented reality experiences. It keeps subscribers highly engaged and entertained. "The metaverse is not just a new way to play games, it is a more natural way to interact and engage. It's a new mobile experience and consumers want it.", says Alexis Bartelds, CEO of Sam Media.
What does Holozonia have to offer? 
Users can explore Holozonia using the joystick on their smart phone's screen. They can create their avatar, hang out in the Holozonia world and access different AR and VR experiences without the need for a headset. Users can play games, learn, listen to music and watch their favourite VR shows on the  spot. This virtual world is also open to external products and services. A mobile network can open a store in Holozonia, for example if an end user needs more data they can go to the operator's virtual shop and upgrade their bundle. But that is just an example, because any service can be represented in this virtual world, as long as it offers added value to subscribers.
Find out by watching more about Holozonia which will be lauched at World Telemedia on YouTube:  https://youtu.be/Bdu2E8hcnQI